Photography inside the heavily policed metro in Tashkent, Uzbekistan,  was forbidden until June 2018 because of the military sensitivity of its second role as a nuclear bomb shelter. In the corridor, a slab of steel is a blast door that would lock behind soldiers and civilians in the event of a nuclear attack.
The trip costs 1,200 Uzbek soms, making it the cheapest subway ride in the former USSR.
During the Soviet period, planners required a city's population to top 1 million before work would begin on a subway. Tashkent's population reached the milestone in the early 1960s.
Tunnelling for the underground system got under way in 1971, and the metro opened in 1977.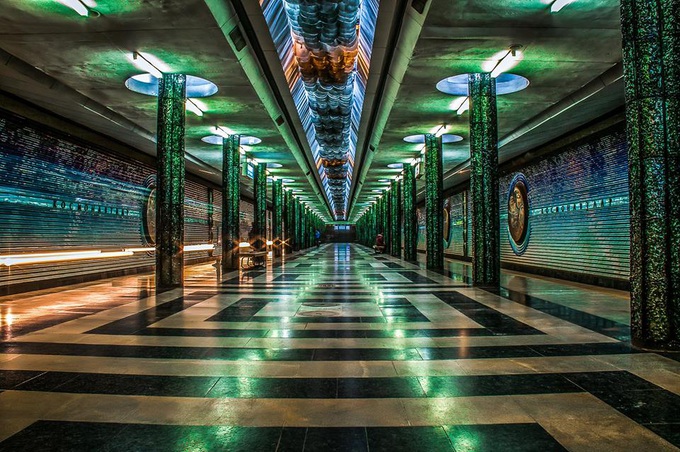 The Kosmonavtlar (Cosmonauts) station is famous for its dreamlike portraits of cosmonauts. Valentina Tereshkova, the first woman in space, was immortalised in Kosmonavtlar station. The ceramic wall panels fade from blue to black in imitation of Earth's atmosphere.
Many of the metro stations were 'decommunised' and had their names changed after the breakup of the USSR in 1991. Most of the metro stations have humble entrances, giving no hint of the dazzling architecture below. Now that photography is permitted, however, the fame of the Soviet-era spectacle is likely to spread quickly.